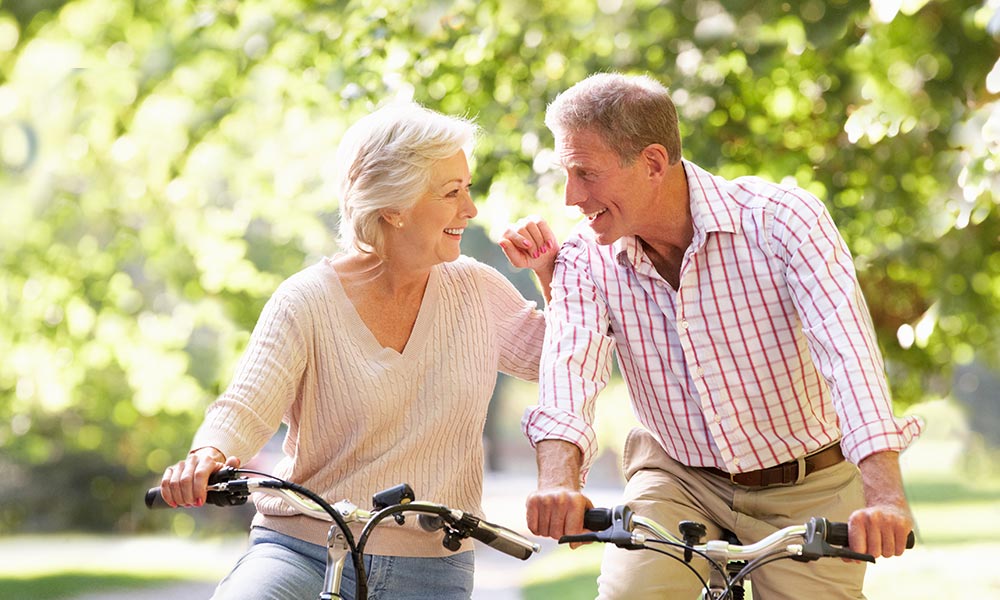 Retirement villages aid residents to cope with the loss of a spouse.
06 Apr 2018Blog
"When I think of death, and of late the idea has come with alarming frequency, I seem at peace with the idea that a day will dawn when I will no longer be among those living in this valley of strange humors. I can accept the idea of my own demise, but I am unable to accept the death of anyone else. I find it impossible to let a friend or relative go into that country of no return."- When I Think of Death, Maya Angelou.
Your spouse is the person you choose to spend your life with, sharing your worldly possessions, goals and dreams and, most importantly, your time.
So, what happens when that time eventually runs out? Not from drifting apart and separating, which of course does happen, but when your partner dies.
For the surviving spouse, everything changes. According to the National Institute on Aging in the United States, it's natural and normal to feel anger at being left alone, to feel numb, shocked, fearful, or even guilty "for being the one who is still alive". One might have trouble sleeping, or experience loss of appetite, concentration problems, or difficulty making decisions.
But, as the organisation says, "there are no rules about how you should feel" and "there is no right or wrong way to mourn".
It is essential to have a support network to help you get through this difficult time – whether that from family, friends, counsellors, or any other support.
Evergreen Lifestyle retirement villages, a subsidiary of the Amdec Group, has a variety of measures in place to assist their residents with coping with loss whether they have specifically moved into a retirement village for that reason or they originally moved in with their spouse.
Head of Evergreen Lifestyle's Care Centre Sr Lou Devine says it is crucial to maintain contact with a person who is grieving. Too often, people aren't sure what to say or do and feel that giving a person space is the right way forward. She advises that it is much better to simply greet them and ask how they are doing because it shows that people care.
Evergreen Broadacres resident Jean Spurr lived in a large house on an extensive property when she lost her husband very suddenly four years ago.
"My two eldest two children live in England, and they were unhappy with me being isolated. The security situation had deteriorated in the area, so they wanted me to move somewhere closer to town and with good facilities," she explains.
"It's been a smooth transition in my life, which could have been completely different. I never had a moment to worry that I wouldn't be taken care of. But it's been a wonderful experience- from the staff and management to the people in the village, all the people I have met here have been fantastic. To top it off, we have a great social life."
Psychologist Marion Schroder says that while losing a partner is devastating and time needs to be taken to mourn the loss, it's important to adjust to living life alone in a meaningful way, continuing to stay emotionally connected with others.
According to Evergreen Lifestyle Village Manager Melanie Carstens, support and encouragement comes from all levels of staff and management – even residents.
"One must be sensitive to the loss and give the person time to grieve at their own pace. We contact the resident as soon as we hear of someone's passing. It's important for residents and families to know that we are here if they need us – from the simple gesture of flowers and sympathy cards to attending the funeral as a show of support," Carstens explains.
"The rest of the village community will also always be informed of the loss, and we find that the support and encouragement from fellow residents is wonderful. People really care, which helps in time to assist the bereaved person to re-enter village life and join in on activities."
A Department of Social Development caregiver training manual on "care and services to older persons" explains that it is important to understand the significance of loss because of the "emotional overload" it can impose on an older person. However subtle or dramatic a loss may seem, it can lead to "mental confusion, disorientation and withdrawal".
Losing a family home, for example, can be a difficult experience as it means the loss of "familiar surroundings, long-time friends and possessions as well as control over one's environment and schedule".
Elizabeth Ann Robertson moved into an Evergreen village in May 2017, shortly before her husband of 55 years died at the end of June.
Living in a retirement village has made such a difference during her time of loss as she says you just need to step out of your apartment if you feel lonely and there will be someone to talk to. Activities such as movie and game nights and wine club have helped her form good friendships with other residents.
"While losing a loved one is always a shock to the system for anyone, losing a spouse is especially difficult as you are losing the person who has been your greatest support for many years," concludes Evergreen Lifestyle CEO Arthur Case.
"It is very important in this time to feel safe in your surroundings, and to feel cared for and looked after."